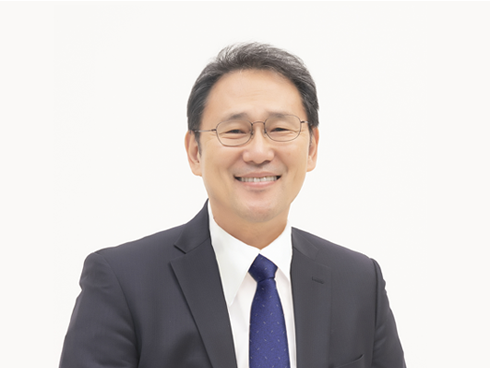 The 12th President of Sungshin Women's University
이성근 (李成根)
Seong Keun Yi
Established in 1936, Sungshin Women's University is a prestigious private university that has fostered numerous talented individuals
throughout its rich history.

Founder Dr. Sook-chong Lee's educational philosophy of 'Sungshin(be sincere and faithful), Jishin(seek knowledge) and Jadong(act independently) was the core value and direction to become the leading higher education institution in the era of globalization.

We strive to cultivate students who are sincere and reliable, who seeks broad knowledge and goes through life with responsibility and independence.

Sungshin Women's University is actively responding to the changes of the times based on our founding philosophy and has built a solid foundation to nurture and sincere and creative talents.

We hope that you will be able to cultivate your dreams, design your future, and actively realize your goals at Sungshin Women's University.
I promise to be with you as you go through this journey.

Thank you.
Education
2007. 6

Ph.D. in Statistics, Korea University Graduate School

1993. 8

Ph.D. in Business Administration, Korea University Graduate School

1985. 2

B.A. in English Language and Literature, Korea University
Career
President's Career

2022.06 ~ present

The 12th President of Sungshin Women's University

Internal Career

2019.09 ∼ 2022.02

Vice President for External Affairs and Development,
Sungshin Women's University

2017.10 ∼ 2018.06

Dean of Planning & Information, Sungshin Women's University

2004.09 ∼ 2022.05

Professor of Business Administration,
Sungshin Women's University

External Career

1997 ∼ 2004

Professor of Computer Science andl Business Administration,
Dongyang Technical College

1995 ∼ 1997

Head of Marketing, SK Telecom, Marketing Dept.

1993 ∼ 1995

Editorial Member, Jeil Business News

1989

Researcher, Nielsen, Korea
1992, Statistical analysis using SPSS PC+, Hakhyeonsa
1993, Multidimensional Scale and Conjoint Analysis, Data Research
1994, Marketing decision making using AHP Technique, Seokjeong
1995, New Distribution Management Theory, Trade Management History
2000, Promotion Essence, Trade Management Company
2002, Management statistics using Excel, trade management history
2011, Service Marketing (Translation), Sigma Press
2022, Statistical Analysis using R, Cheongram
1993 Distribution Path Analysis Using Transaction Cost Theory and PhD Dissertation in Business Administration
2007, Quantification Method for Partial Least Square and Its Generalization, Ph.D. Dissertation in Statistics
2002, A Study on the Measurement of Delivery Service Quality and Management Studies
A Study on the Effect of Location Characteristics and Over-the-Counter Promotion on Retail Store Performance in 2005
2007, "The Effect of Option Attachment in Satisfaction," International Review of Business Research Papers
2007, "Visualizing (X,Y) Data by PLS," The Korean Journal of Applied Statistics
2011 Higher Order Quantification Method for PLS Correlation, Product Studies
2011, Building Positioning Mapping PLS Regression, Marketing Research
2012, Generalization of Quantification for PLS Correlation, Applied Statistical Study
2015, Exploratory research on corporate culture marketing strategies, and cultural industry research
2019, Application of Dynamic Price in Performing Arts: A Non-Marketing Journal, Focusing on Perception of Price Fairness
2019, A Study on the Characteristics of Performing Arts and the Management of Culture and Arts
2021, VRIO Analysis and Commercial Studies of Creative Musical Companies
1993, Dacom (currently, LG U+) long-term development strategy
1995. Distribution strategy of Shinsegi Telecom (currently SK Telecom)
1999, LG Electronics' new distribution channel strategy
2005, KT distribution revitalization strategy
2005, IBM's data mining system establishment
2009, Korea Expressway Corporation Hi-Pass demand forecast
2009, Visit Korea Committee, 2010-2012 Visit Korea Year Basic Plan established
2009, National Sports Promotion Foundation, National Physical Fitness Survey sample design
2010, Nice Research Food Industry Survey Index
2015, Federation of Korean Industries' Small and Medium Business Cooperation Center, a step-up-type fair trade agreement evaluation model study
2015, Publication Industry Promotion Agency of Korea, K-Book's overseas market expansion strategy
2015, Korea Foundation for International Cultural Exchange, Hallyu flagship model development and case analysis
2022, Ministry of Land, Infrastructure and Transport IOT and Artificial Intelligence to Construction of an electric fire prevention system dozens of other cases